By Matt Miller, senior science writer
A neat and tidy stream looks scenic to our eyes, suitable for calendar photos and nature blogs.
For a salmon on its spawning run, though, a neat and tidy stream is a dead end. There's little place to rest on the long journey to the sea. There are few places to lay eggs. A lack of pools means less space for juvenile salmon that spend a year or more in freshwater.
As such, survival of young salmon drops.
No: salmon don't need neat and tidy. They need dead trees. They need debris. They need variety.
That's why I'm jumping over logs with U.S. Forest Service biologist Sheila Jacobson and hydrologist Sean Claffey. They're putting dead wood back in Twelvemile Creek on Prince of Wales Island and measuring the impact of the practice on salmon and other native fish.
Salmon have long defined Prince of Wales Island and the Tongass National Forest. Bears, bald eagles and other wildlife feed heavily on their carcasses. For thousands of years, salmon meat has been vital both nutritionally and culturally for the Tlingit and Haida communities. More recently, salmon has supported commercial and recreational fisheries.
For the past several decades, Prince of Wales Island has also been defined by logging. Cutting old growth forests affects streams in ways both predictable and unexpected. Large trees take up a lot of moisture from the island's frequent rains (it's a temperate rainforest). When a large amount of a watershed is logged, it can increase small floods and change stream channels. Logging also brings roads and associated road culverts, which can also increase erosion and divert streams from their natural paths.
Another practice had an unintended consequence. Prior to the mid-1980s, even biologists practiced "stream cleaning" under agency direction. Although it may sound positive, stream cleaning involved removing logs and large wood, which in turn removed pools, hiding areas and fish habitat. The good intentions of that practice were unfortunately based on poor assumptions, not science.
"A stream without dead wood becomes shallow and uniform, which leaves little habitat for fish," says Sheila Jacobson. "These streams can't live without wood. For their entire existence, the wood has provided habitat and nutrients, and the fish evolved with that."
As time passes, the stream without large wood becomes wider and more unstable, making it less suitable for fish. Jacobson calls streams in this condition "bowling alleys": they're straight and flat.
Building Fish Condos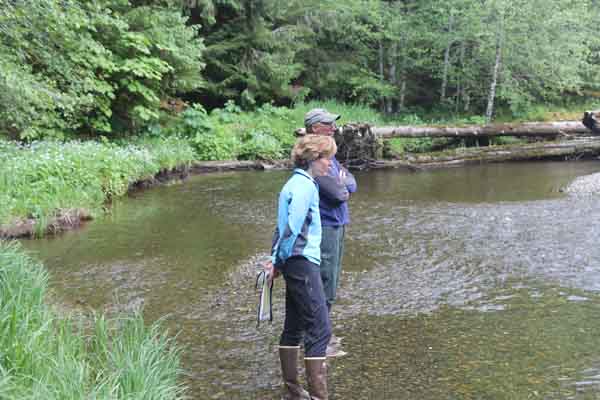 Stream restoration has become a priority on Prince of Wales Island and the Tongass National Forest for the U.S Forest Service and conservation organizations like The Nature Conservancy, Trout Unlimited, National Forest Foundation and National Fish and Wildlife Foundation.  In addition to removing road culverts, the Forest Service and the Conservancy are putting logs back in the streams like Twelvemile Creek. (And similar efforts are underway in other states, including California, where logs are also being placed back in streams).
"It's like building a condominium for fish," says Jacobson. "When you put logs in the stream, you immediately make the stream less homogeneous, and provide more diversity for fish. The stream banks are more stabilized. You are returning the stream to a more natural functioning condition."
It was easy to see this as we walked along. Where logs had been dropped into the creek, pools and riffles had formed.
However, is putting cut logs in a stream really natural? Shouldn't conservationists just let trees fall?
Where logging occurred in the 1950s to 1970s, there are few older trees, so it will take many years until large, old trees again fall into Twelvemile Creek. "Things have been out of synch here," says Jacobson. "We're bridging that gap until the trees grow back and begin falling into the stream naturally. That will take time. We're recreating those conditions now."
The Conservancy is hiring local contractors to put the logs in the stream, providing jobs to the local economy. Ecologists focus on placing the logs so they are behaving as if they had fallen in the stream. There is even an emphasis on looking natural—some logs are even chipped on the end to resemble the chew marks of beavers.
The wood is placed after the spring runs of steelhead trout and before adult pink and coho salmon return and spaw, to minimize fish disturbance during critical life stages. "It is a lot of work to accomplish in a roughly one month period each year," says Jacobson. "We've restored one mile of stream and placed 300 logs in each of the past two years."
Is it working?
Monitoring the fish population is an integral component of conservation work on Twelvemile Creek. To see this work, Jacobson takes me to "fish camp," where fishery technician Steve McCurdy and Student Conservation Association workers live in a yurt beside the stream, where they capture, tag and measure fish passing through.
To accomplish this, they have a fish capturing device called a "rotary screw trap" – a large funnel that looks more like something from a factory than a fish trap. It leads nearly all fish migrating or passing downstream into a trap; the researchers then record, measure and tag each one as well as mark coho salmon smolts with a tiny coded wire tag.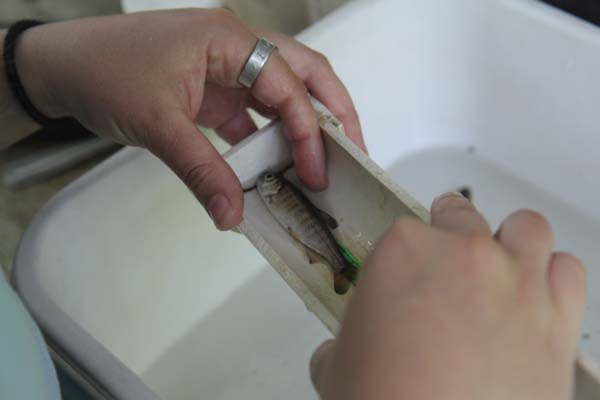 About 11,000 coho salmon smolts leaving the river were wire tagged and coded in 2013 to better estimate population size and to help determine marine survival and harvest rates on this stock.  When fish are caught, they are run under a scanner which immediately beeps if the fish has already been tagged.
Along with intensive fish monitoring, a suite of physical stream habitat response variables are being collected within the restoration areas of Twelvemile Creek, and compared to conditions in similar untreated reaches to evaluate trends and restoration effectiveness over time.
"Anadromous fish, those that migrate from saltwater to freshwater to spawn, have so many factors that influence survival," says Jacobson. "Right now, we're determining the fish production in a river that has had and continues to have restoration activities. It's a productive stream. Will it become more so as we restore it to a more natural condition? That's what we're measuring. The restoration here ties together the stream, the forest and the fish. It's one component of ensuring the continued productivity of the natural resources on this island."
Opinions expressed on Cool Green Science and in any corresponding comments are the personal opinions of the original authors and do not necessarily reflect the views of The Nature Conservancy.