Anyone with a pair of binoculars (or better yet, a spotting scope) is able to contribute to our understanding of migratory birds by simply keeping a look out for birds with bands.  A wide array of species making their annual migrations through North America are wearing leg bands that observers can record and report.
These markers give birds a unique identity.  By reading the letters, numbers and colors the bird is wearing, we are able to link that resight to a specific individual which was previously captured or resighted in another time or place.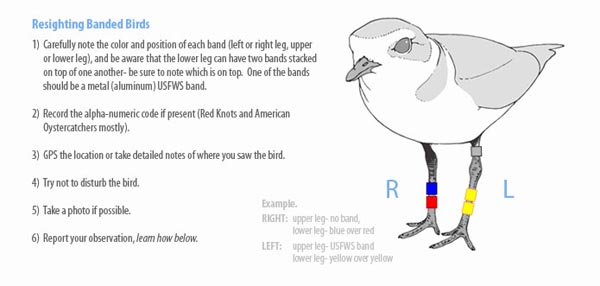 As such sightings pile up, we can write a whole biography of individual birds.  One of the most famous examples of such a biography is B95, the moonbird, a red knot that has been seen throughout its migration from South America to the Arctic over the last 20 years.
When sightings of multiple birds are compiled, they can yield new insights into a species' distribution, migration, and population dynamics.  Band resights have helped to delineate the winter range of piping plovers, clock the migration rate of red knots, describe the post-breeding movements of roseate spoonbills and document wintering site fidelity of American oystercatchers.
What do all these particular findings have in common?  Resights by husband and wife citizen scientists Doris and Pat Leary played a central role in making these discoveries.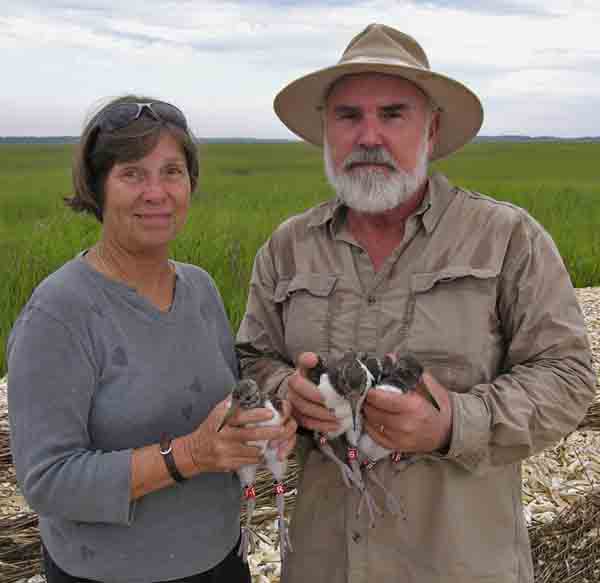 Now retired, Pat and Doris previously worked as a home repair contractor and bank teller, respectively. Although they have always been naturalists and conservationists, the couple stumbled upon a passion when they resighted their first color-banded bird in 1999, a piping plover near their hometown of Fernandina Beach, Florida.
This little bird happened to be a captive-reared piping plover chick that was born on the shores of the Great Lakes in Michigan.  It returned to Florida each winter for many years, and Doris and Pat were always there waiting.
Because Florida is a hotspot for migrating and wintering birds, the Learys soon found all kinds of birds with which to ply their trade.   They began resighting banded red knot, piping plover, Wilson's plover, American oystercatcher, roseate spoonbill, wood stork and painted bunting.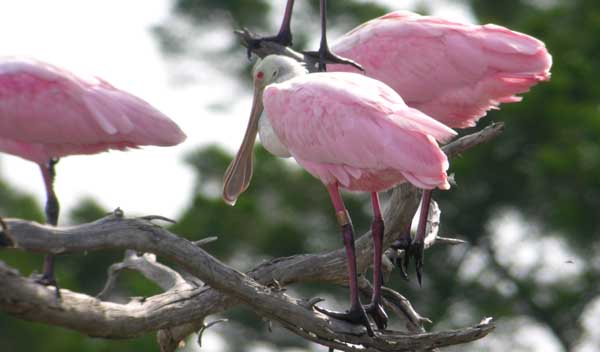 As the pair carried on with their work, they learned that some of the organizations and agencies responsible for managing these bird species didn't necessarily have the resources to do the time-consuming field work necessary to amass the rich information on bird distribution that the Learys were gathering.
"They were coming to us for data," Pat says.   When it came time to designate critical habitat for wintering piping plovers in Florida, the Leary's data were used to make decisions.  Pat had a realization that what they were doing was more than a hobby.
Pat explains, "What drives us is the degradation of the environment, declining bird populations and all these stresses worldwide."
Beyond the enjoyment of being in the field and knowing their work contributes to science and conservation, the birds they are seeing have connected Doris and Pat to like-minded people all over the Western Hemisphere.  Now the Learys are part of scientific working groups for both the American oystercatcher and red knot, and they have expanded their work beyond Florida into other parts of the southeastern United States.
Pat emphasizes that engaging in this highly focused form of birding can help birders raise their awareness about conservation issues and foster a deeper appreciation of these birds by expanding one's knowledge of bird migration and biology.  Furthermore, "it is a way to give back."
Aldo Leopold, in his 1949 classic A Sand County Almanac, wrote a passage on the importance of citizen science.  He saw it as a form of recreation and as way to make sure wildlife research was not dominated by "professionals" alone.
Although it takes more time, effort, and patience to carefully read and report the identities of banded birds, Leopold tells us "do not let anyone tell you that these people made work out of play. They simply realized that the most fun lies in seeing and studying the unknown."
To report marked shorebirds and for some notes on technique, visit the Banding and Resighting web site.
Any banded bird can be reported to the United States Geological Survey's Bird Banding Laboratory.