Anne Bradley is The Nature Conservancy's forest conservation program director in New Mexico. Find out why the Jemez Mountains inspire her and how she uses history as her guide to conserving forests in the face of climate change. 
WHAT I DO: Forests are typically federal lands, so I collaborate a lot with federal agencies and academic groups. I participate in the Southwest fire science consortium, which organizes fire ecology conferences, produces videos, working papers, webinars and field trips. Our goal is to get the science out to managers as fast as possible, faster and more efficiently than if people are just putting all their work into journals, and to develop more partnerships between scientists and practitioners.
FORESTS: What I know is what's in front of me, and I'm here to tell you that there is no forest in North America that is not under threat. We can't assume they're ok just because of federal protection. Changes are happening quickly and we need all our creative energies and attention focused on addressing climate change and other human impacts. The Southwest is a place that is warming and drying quickly. We're teetering on the edge of whether we can have trees or not. The science suggests that forests are more sensitive than we thought, and we wouldn't have known that until we started futzing around with climate change.
FAVORITE PLACE: I love Tsankawi, (pronounced TSAN-ka-wee) an independent unit of Bandelier National Monument. You hike up an ancient trail along a mesa, and get an up-close look at a large Pueblo village ruin, at cavates (natural caves enhanced by ancient Pueblo Indian people) and petroglyphs to a panoramic view of the Jemez Mountains, up and down the Rio Grande Valley and into the Rockies on the Colorado border. This is my landscape. It's so important to me. I grew up in these mountains. I was raised in Los Alamos, which lies on the eastern mesas that skirt the range. I left to pursue education and career elsewhere in the West, but when I joined the Conservancy in 2004 I came back to Santa Fe. These mountains inspired my career.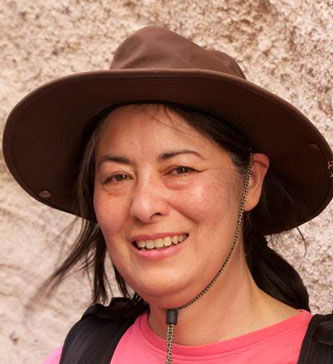 ISLANDS IN THE SKY: The Jemez Mountains are "sky islands" — they rise up steeply and have unique features for such a dry area. These mountains are famous among vulcanologists; some of the first modeling of how volcanoes blew up and formed calderas was done here. And they're famous archeologically — humans have been living here for 11,000+ years and their cultural evidence is scattered pretty much everywhere.
The Pueblo Indian and Spanish cultures are alive here still.
A lot of scientists want to work here. We have so much historic information — tons of tree ring research has been done here. We probably know as much about forest disturbance dynamics here as any place in the world. Up until a decade ago, we were looking at this historic info to guide us. Now we have the overlay of climate change. What can we tell managers about this moving target? What are the processes we want to prioritize? Is there a "graceful" transition we can facilitate to a new norm?
SONGBIRD: I sing in a chorale. Santa Fe is a great arts community — there's lots of musicians, composers, etc. I wish I could sound like someone interesting, like Susan Tedeschi. But I'm a soprano, most suited to composers like Handel. When I used to work in Montana in bear country, I'd sing while out hiking to let the bears know I was around.
READING: I'm working my way through 1493 by Charles Mann. We keep talking about the Anthropocene, but you read this book and remember that even in the 1400s people were hauling things across continents, bringing in new stuff — people have been influencing nature for a long time. It is hard to be hopeful sometimes, but this book reminds me of nature's resilience.
FUTURE OF CONSERVATION: The whole concept of conservation is a social construct. We preserve what we value as people. I'm glad the Conservancy is talking about people more; it makes sense to me. I work with people who've lived on the land for generations. New Mexico wouldn't be such a rich place without those deep roots. The concept of wilderness, fighting for places untrammeled — when you have climate change, is that a relevant concept anymore? The problems right now are really at a scale that overwhelms all our administrative boundaries. We really need to be good at collaborative science and integrating the social piece to have a prayer of creating a useful response to the current challenges. I am so grateful for the cadre of really capable scientists that I work with right now. We have very talented, creative science partners who are dedicated, practical and a lot of fun to boot! I find it enormously valuable to have such incredible colleagues, at the Conservancy and with our partners.
Opinions expressed on Cool Green Science and in any corresponding comments are the personal opinions of the original authors and do not necessarily reflect the views of The Nature Conservancy.