By Vera Agostini, senior scientist, The Nature Conservancy's Global Marine Team
Helping people and nature adapt to climate change is a hot topic in conservation.
But the science behind planning such adaptation — particularly for human communities — isn't as clean as the rhetoric, and you can't do it simply in a lab or on paper. Whether we're talking about major developed world cities or small coastal villages, we have to run our theories by what we call the "test of people" — so they lead to strategies that work. That test often involves understanding how the world looks through the eyes of the people we are trying to help. Nothing like a good reality check.
Case in point: My recent trip to the Grenadines, where I was attending an "action planning meeting" with community members, my colleagues from The Nature Conservancy's 'At The Water's Edge' project team, and our local partners. Our aim: to identify specific actions that can be taken to help reduce the communities' vulnerability to coastal hazards (i.e., flooding from sea level rise and storm surge).  As conservationists, we hope nature might be a part of the equation — what we call "nature-based adaptation."
Soubise is one such place where we hope nature-based adaptation could work. It's a tiny community on the eastern coast of Grenada — and one that's literally at water's edge. Fisher houses line a thin strip of land that's quickly disappearing into the sea because of flooding brought about by storm surge and sea-level rise. Not just space, but sanitation are issues.  Together with the Grenada Red Cross and Grenada Fund for Conservation, the Conservancy is exploring and testing just how well nature-based adaptation strategies could work for Soubise.
But when you walk around Soubise, as some of us did during my trip, and see the imminent vulnerability of these houses, you have to ask: Why do the residents insist on hanging on here?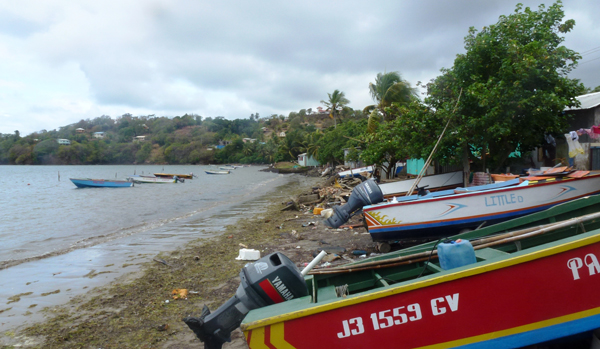 I saw a row of boats sitting proudly in front of the fisher houses, tidy and ready to go. I stood out on what is left of a jetty, looking out onto the ocean — the wind blowing from the south rippling the water. Suddenly, a light went on for me: this is clearly what the fishers see. They are not looking at the shore, their houses, and the land that is quickly disappearing. Their lens is focused on the sea, reading its mood, figuring out what their next destination is, where the next best catch will come from. And being close to the ocean gives them access to it.
And that's the mind-set we have to enter as we help them develop their climate adaptation strategies.  That of the ocean dweller, not that of a land dweller.
A land dweller would say to these fishers: relocate! And exactly this has been the focus of adaptation solutions offered by the government for these communities. It is the kind of solution pervasively discussed as coastal communities in small island states consider adaptation options. The water is eating up the fabric of your lives — why stick it out and wait for more destruction?
But what IS the fabric of their lives? Surely it includes not only their homes but also the water, the moods that it reveals, the fish that inhabit it. It's quite a different perspective from those who do not live and rely on the ocean.
Armed with this new perspective, our teams quickly turn to discussing a new use of their disappearing land strip. Back at the community meeting, we try and shift the conversation around Soubise away from "stay or go" to one that says "if you go, this is what this space will give back to you, this is how this space could support your sea life."
We begin to explore with them reducing their risks from flooding (albeit not eliminating them, of course) by turning that coastal strip into a smartly developed "fisher village," one where nature (e.g., mangroves) plays a role in reducing those risks. This village would be complete with warehouses for storage and meeting spaces — designed for fishers to maintain their access to the water and help support their livelihoods, but which could be easily vacated and secured when the sea comes in. Their homes perhaps could be located a bit more inland, where their families can be safe and away from the advancing ocean, and the infrastructure supporting their livelihood could remain on the shore.
Natural solutions like re-establishing mangrove buffer islands and enhancing shoreline vegetation would help stabilize the marginal zone from which the fishers work. Clustering structures, installing sewers and managing stormwater would help the natural solutions thrive, benefitting the bay ecosystem and by extension those who depend on it for livelihood and sustenance.
The science and the planning follows, but you first have to enter into a seafarer's mind. You have to ask and answer questions such as: Where do my boats need to be? What kind of access do I need to water? How will we share that access? What facilities do I need to receive me from a long day at sea? What facilities do I need to plan that long day? These questions are essential to helping communities think through a new use of the disappearing coastal land strip.
As conservationists planning adaptation strategies, we are forced to explore shifting time frames.  Adaptation needs to happen one generation at a time. Designing strategies purely for the long term is not working, because today's fishers do not want to move. They are worried about losing their access to water. So we need to go back and look at what our models predict the waterline will be in the medium- and long term and make decisions about strategies (like building on the coastal strip, albeit more smartly) that provide access to water and may work in the medium- but perhaps not in the long term.
As we continue to work with these communities, we also will need to consider a whole suite of other factors (longevity of buildings, cost effectiveness of different solutions etc.). But the first building block has been laid: a conversation with the community. We can only do this with organizations like our partners in Grenada (the Red Cross and Grenada Fund for Conservation), which have been critical to our understanding of these communities and our conversations with them. The future of nature-based adaptation for people in places in Soubise depends on these kinds of partnerships, and on conservationists and scientists effectively putting themselves in their place.

Opinions expressed on Cool Green Science and in any corresponding comments are the personal opinions of the original authors and do not necessarily reflect the views of The Nature Conservancy.