By Dayna Gross, Silver Creek Preserve manager
Scientific illustration is more than just pretty pictures — a point made quite clearly in my own work at the Conservancy's Silver Creek Preserve, as we tried to convey restoration plans to the general public.
For as long as I can remember I have enjoyed painting flowers, insects, and landscapes.  There is something so enjoyable about capturing colors and textures in paintings.
In the last ten years this hobby has expanded into my work: illustration has become key in how I view the world, understand conservation and communicate ideas.
Science has always relied on visual representation to convey key concepts. While representation has varied from Audubon's bird paintings to high-tech GPS imagery, illustration has at is core always been about conveying information.
However, while we have inarguably made amazing advancements in information technology, high-tech does not always mean "easy to understand."
The history of scientific illustration dates back at least to 500 AD, when there was a rising need to depict and record medicinal plants.  Illustrators often used watercolors in combination with ink because of the clarity and simplicity of the medium.
The strength of the illustrations is that they can show what is unobservable to the eye while emphasizing certain important details or features missed by the scientific description or, today, by photographs.
For almost two thousand years, these illustrations have enhanced scientific communication by merging art and science.  Today, they are increasingly important in our conservation work where science and communication are rarely separate.
The importance of illustrations was reinforced for me during a public hearing on a restoration project we are working on at Silver Creek.
For months I had been explaining the restoration designs to people using the computer-aided design (CAD) produced by engineers.
Because I could visualize the design clearly in these drawings, I assumed others could as well.  However, as we got further into the design and developed more detailed CAD drawings I started to see confusion, miscommunication, and sometimes a complete misunderstanding of the project details.
People wanted to visualize what the restoration project would look like. So I decided to illustrate our plans.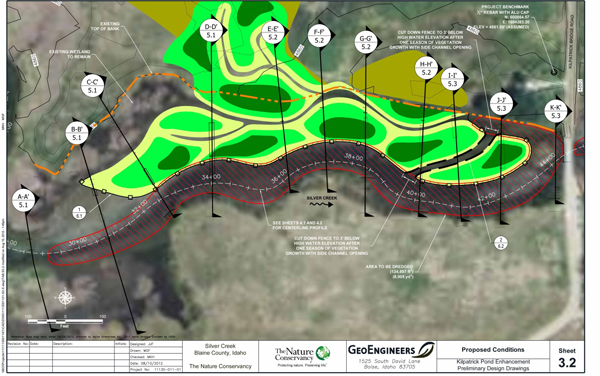 The above illustration is a computer aided design drawing by our engineers.  It is one dimensional and includes details that most people don't need. Without an in-depth knowledge of restoration ecology, it's very difficult to understand.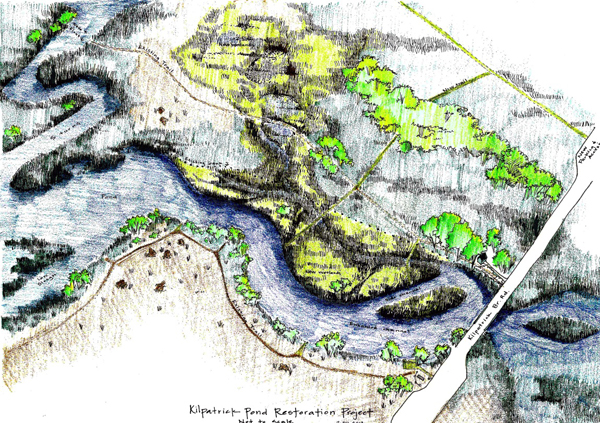 Above is a bird's eye illustration of the design I created.  Using colored pencil and pen allowed me to show detail but also create a more natural looking view.
Shadows give it depth not felt in the CAD drawing. Anyone can now see what the restoration will look like when completed.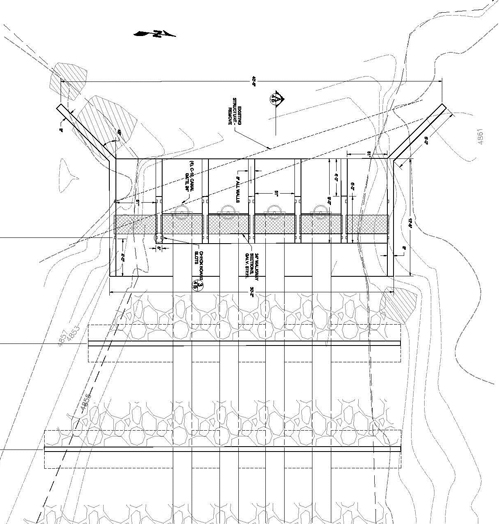 This (above) is the engineers' drawing of the dam structure (courtesy of Brockway Engineering).  The only drawings we had were in the plan view and it was difficult to tell from this plan what people would actually be able to see.
For instance, the pipes shown here will be covered with rock and not be visible.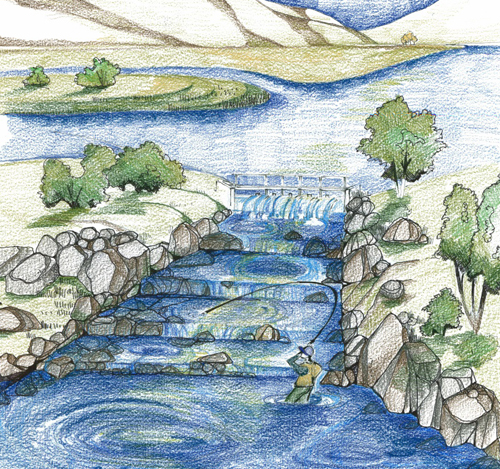 Above is a perspective illustration of the dam structure.  Not only did this clarify for folks what the end product would be, it helped me clarify details with the engineers and assure we were on the same page.
The response was overwhelming.
People could see and understand the project.  There was less confusion resulting in greater support for the entire project.  Having the ability to emphasize elements of the project not clear in the drafted drawings and relate to people's aesthetic interests has been priceless in our communication of this complex and science-based restoration project.
Opinions expressed on Cool Green Science and in any corresponding comments are the personal opinions of the original authors and do not necessarily reflect the views of The Nature Conservancy.