Chimpanzees don't eat fish. They don't even swim. But at Lake Tanganyika in western Tanzania, scientists have found that to save chimps, they must look underwater.
That's because here, everything—people, fish, water, forest, and chimps—is interconnected. Attempting to conserve the apes without accounting for the health of the fishery that provides food and income for local people would doom these efforts.
Today, fish supplies are dwindling, villages are growing fast and chimps are getting squeezed into smaller and smaller forests.
Where Have All The Fish Gone?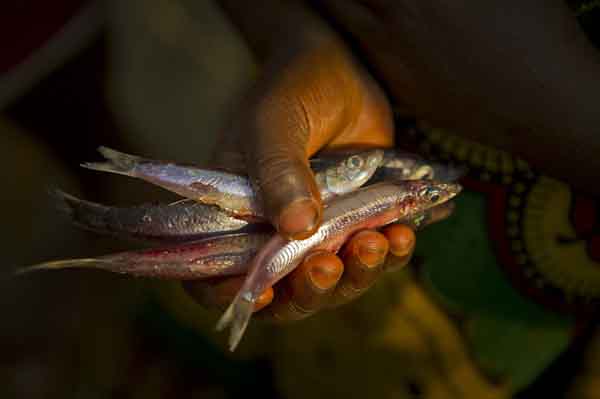 Understanding these connections means understanding Lake Tanganyika. It is the second largest lake by volume in the world, and the longest. It contains an estimated 16 to 17 percent of the world's freshwater supply.
The lake is rich in fish, and even if you've never been there, they might look oddly familiar: Many of the colorful fish that swim around American aquariums originated in Lake Tanganyika. More than 200 species are found nowhere else on earth.
"The fish communities have been isolated in this lake for millions of years," says Colin Apse, senior freshwater conservation advisor for The Nature Conservancy. "It's one of the last large lakes in the world that still has an intact aquatic ecosystem. It's not dominated by non-native fish. Many biologists recognize it as an evolutionary laboratory with a really amazing set of species."
And not only fish: the lake is home to mollusks, snails, crabs, shrimp and even jellyfish that you might expect to find in an ocean.
"You can go snorkeling here and feel like you're on a coral reef," says Apse.
But this is more than an underwater attraction. This amazing diversity provides food and jobs for literally hundreds of thousands of people. Fish from Lake Tanganyika provide one-third of the protein for people who live along the lake.
"Many people don't realize how important freshwater fishes are as a protein source globally," says Apse. "Often, freshwater fisheries are ignored until it's too late. When people think of conservation in Africa, they often think of large, well-known mammals like rhinos and cheetahs. But if you look closely, you see that freshwater ecosystems are just as important, for people and for biodiversity. Especially here."
Fish, People, Chimpanzees: Making Connections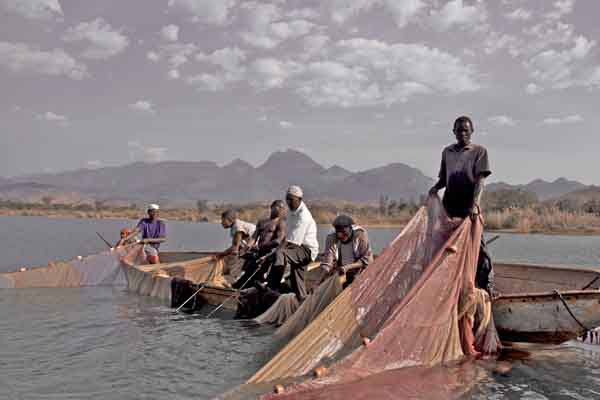 The lake provides, yes. But what does this have to do with chimpanzees?
One thing you quickly learn at Lake Tanganyika: all threats are linked. Human communities are experiencing often-explosive population growth, due to a lack of access to education, family planning and health care.
This puts more pressure on the fishery, potentially leading to overharvest. Some fishers turn to illegal methods, including nets that capture even the smallest young fish, wiping out populations.
When the fishery is declining, people turn to the forest for food and fuel wood. They clear areas along streams for agricultural production. This in turn leads to sediments running into Lake Tanganyika, which affects water quality, habitat and the fishery. With more impacts to the fishery, it drives more people to the forest. And on. And on.
And yes: This is where the chimpanzees come into the picture. There is a well-known national park along the lake, Mahale Mountains, that contains the largest chimpanzee population remaining in Tanzania. That park alone is insufficient to protect their wide-ranging populations. The more forest land cleared, the tougher it is for chimpanzees to survive.
"Effects on the lake affect the forest. Effects on the forest affect the lake. Effects on people affect the forest and the lake," says Apse. "You can't just address one aspect of conservation here. You have to look at all the threats, and all the opportunities."
Tying it Together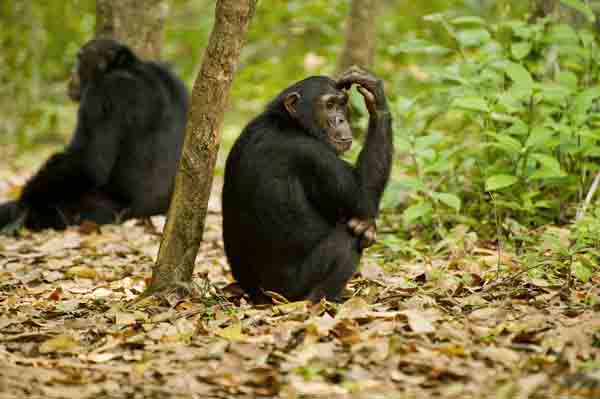 A joint project of The Nature Conservancy, Pathfinder International and the Frankfurt Zoological Society seeks to address all aspects of conservation for Lake Tanganyika communities, benefiting both people and nature. Called Tuungane — Kiswahili for "Let's United" — the project addresses human health and reproductive planning issues. Partners are researching chimpanzees and their needs. And they're using science to sustainably manage fisheries.
The first step was hiring a local fisheries manager, Aloyce Magoti, to assist with outreach to communities. "We recognized that local communities could play a more significant role in fisheries management," says Apse.
Fishers also pointed to important nursery areas for fish, and also identify key threats to the fishery. With this local knowledge, researches then collected data on the overall health of the fishery and ecosystem. "This baseline will enable us to determine if we're making progress in protecting the fishery and biodiversity," says Apse.
One of the goals of the research was to identify small freshwater protected areas that could benefit fishing communities and fishery health over the long term if locally enforced. These are modeled after marine protected areas that are a common conservation strategy in ocean environments.
These protected areas ban or restrict fishing, usually in areas where fish congregate to spawn or where young fish mature. These areas produce larger fish that spill over into places where communities fish. It's a way of protecting the resource while sustaining fishing.
An existing protected area in the lake already existed as part of Mahale Mountains National Park. Research found it was working extremely well, a fact recognized by nearby communities. "Communities, leaders and fishers have all expressed their support for protected areas," says Apse. "The difficulties, though, are in the specifics—where and how we create protected areas."
The protection will be even more important due to yet another threat: climate change. "Lake Tanganyika is one of the places where we best understand the impacts of climate change," says Apse. "Research clearly shows that climate change is impacting ecological productivity. That makes it all the more important to adequately protect the resource to promote resilience."
The next step: Using technology to demarcate the protected areas, so that local fishers clearly know where they can fish and where they can't.  The small protected areas will then form an important component to conserving both the lake's ecosystem and the forest.
"Traditionally, if we wanted to protect chimpanzees, we'd look to create a chimpanzee reserve," says Apse. "But that doesn't really fully address the threats. We are looking at the whole ecosystem and the human community. If we want to protect the forest, we have to protect the lake. And if we want to protect chimps, we have to think about fish. If we want to protect human health and livelihoods, we need to think about both fish and chimps. Only when we take this integrated approach can we ensure a bright future for everyone and everything that relies on Lake Tanganyika."
Opinions expressed on Cool Green Science and in any corresponding comments are the personal opinions of the original authors and do not necessarily reflect the views of The Nature Conservancy.