They appear like ghosts before light: small groups of plump birds standing amongst the sagebrush. They puff up, tail feathers erect, chest extended. Large air sacs are inflated on their breasts, making a distinct plop.
I'm on the spring display grounds of the greater sage grouse, one of the arid West's most iconic birds. Each spring males gather on these grounds, known as leks, to impress females with their display.
You have to get up early in the morning and sit motionless in the high desert. But you'll be rewarded in the soft light of dawn, as sage grouse begin their show. It's not unusual 15 males vying for the attention of female grouse on a lek, a site that grouse use year after year. (I've seen more than 50 on a lek at The Nature Conservancy's Crooked Creek Preserve).
It's one of the world's most memorable wildlife spectacles. But finding it has grown increasingly difficult, as sage grouse continue to decline across their range.
Why are sage grouse on the decline? And is there anything we can do about it?
The Not-So-Endless Sage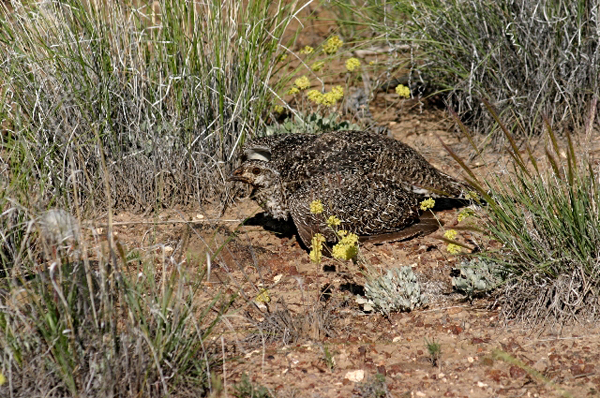 The story of sage grouse is the story of sagebrush, a shrub that at one point covered much of the arid western United States.
When European settlers traveled the Oregon Trail, the sagebrush deserts seemed endless and unforgiving. And indeed, sagebrush covered 150 million acres. Today, driving the interstate in the arid west, it still appears that this habitat stretches to the horizon.
A closer examination reveals much has changed.
Healthy sagebrush habitat is actually not just sagebrush but a rich mosaic of other shrubs, grasses and wildflowers. It is common to hear people to refer to sagebrush as "barren" or "empty," this is simply not the case. In fact, a wide variety of creatures rely on sagebrush to survive.
It's a very nutritious plant for mule deer and pronghorn. Many bird species survive only in sagebrush, including the aptly named sage sparrow and sage thrasher. There are even spiders found only in sagebrush.
And then there's the sage grouse. Nearly every phase of the grouse's life relies on sagebrush. They eat it, they nest in it, hide in it, seek cover during the winter under big sagebrush's branches.
Lose the sagebrush, and you lose the sage grouse.
It's that simple. For years, sagebrush was considered a nuisance plant, and range managers burned it, sprayed it and knocked it over by dragging chains across the desert.
Ecologists today estimate that only 10 percent of remaining sagebrush habitat is pristine. The threats come from a variety of perhaps-predictable sources: development, overgrazing, energy development, too-frequent fire, invasive weeds.
All this has caused a tremendous loss for sage grouse.
And as if that weren't enough, the grouse face another, unusual threat: native trees.
Juniper Chomp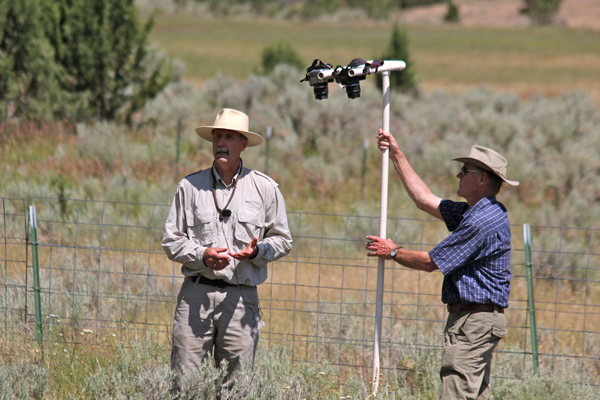 Junipers are a native tree in the arid West. So how could they possibly be a conservation threat? Isn't it only non-native plants that become invasive?
It's true that junipers have existed alongside sagebrush for millennia. But improper grazing management, fire suppression and possibly climate change have created conditions for junipers to encroach and overtake sagebrush habitat.
In the Owyhee Canyonlands—an expanse of high desert in southwestern Idaho–analysts estimate that junipers are expanding their range by 2500 acres per year.
Sage grouse require open areas to display in the spring time. Junipers provide perfect perches for ravens that eat grouse eggs, and raptors that prey on grouse.
Grouse recognize the potential for danger. If there's a perch nearby, they avoid the area. When junipers come, the grouse go.
In the shade of junipers, grasses and other plants important for wildlife disappear–leading also to increased likelihood of soil erosion. And that's a how the spread of a native species negatively affects the whole ecosystem.
Enter the Sage Grouse Initiative, an effort of the Natural Resources Conservation Service that enables local leadership and local solutions for grouse conservation. The initiative includes The Nature Conservancy, ranchers and many other partners working together to study ways to reverse the decline in sage grouse by addressing their habitat. Research remains a key component of the project.
In Idaho, the Conservancy has been supplying key research results on a novel juniper control method: ecologists are using a machine to chomp them up.
The machine is called a juniper masticator. Essentially, the large machine is lowered over a juniper tree and reduces it to mulch in 45 seconds. It chomps the tree all the way to ground; if even one branch remains, the juniper will quickly regrow. The masticator leaves nothing but mulch, so the chomped up juniper is returned to the soil, providing fertilizer for native grasses.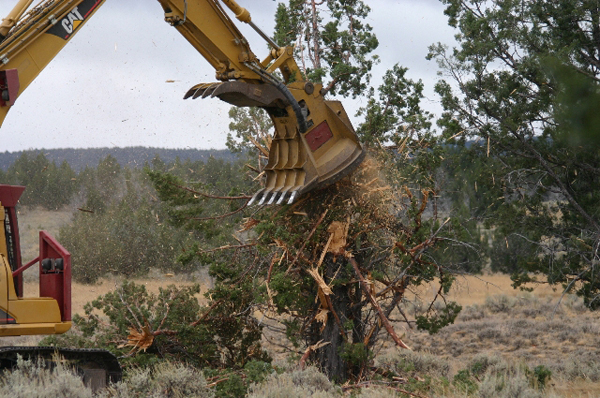 The demonstration project for this method, in the Owyhee region, focuses on meadow areas important for sage grouse nesting and brood rearing.
When the project is finished, nice meadows with sagebrush and native grasses will be all that remain–perfect for sage grouse and other wildlife.
One of the hopes is that this form of juniper control can be applied to private ranchlands and provide a new source of income to ranchers.
If proven cost effective, the chomped-up juniper would be sold for biofuel or mulch–a sustainable industry that would also improve habitat conditions in the Owyhees and other sagebrush habitat.
Extensive research is being conducted on other methods that can make a difference for sage grouse. Science offers hope that we can restore these amazing birds, and that their strutting, puffing and plopping remains a ritual of spring in the American West.
Opinions expressed on Cool Green Science and in any corresponding comments are the personal opinions of the original authors and do not necessarily reflect the views of The Nature Conservancy.