Why is it that when you are trying to be the quietest, you inevitably drop or bang something noisy? Well, at least that's my experience.
The ice that just cracked under my foot was like a window breaking.
The bear sleeping on the bank of the river exploded with a roar.
Within a few seconds it was covering the frozen ground towards us at break-neck speed. My friend Hamish and I raised our airhorns above our heads and squeezed. The bear kept coming. Then just as the horns started to wheeze their last exhale of compressed air, the bear registered the sound and pulled up.
Standing less than 80 feet from us was one of the rarest bears on the planet, the Tibetan blue bear (Ursus arctos pruinosus).
We didn't speak, there wasn't anything to say. We both knew that our air horns were exhausted and that in retrospect we should have had a plan to let off one then the other.
The bear stared at us with lips curled back. We stood frozen holding our bikes. It wasn't more than a few seconds – time enough to process the gravity of the situation – before the bear turned and retreated. Twenty feet at first, then all the way to the bank, then half way up the sand dune, at each point turning to observe and perhaps reevaluate its decision to retreat, then finally over the top of the dune and out of sight. This was the first bear we had seen on the expedition.
"Holy [expletive]."
"These air horns just saved our lives."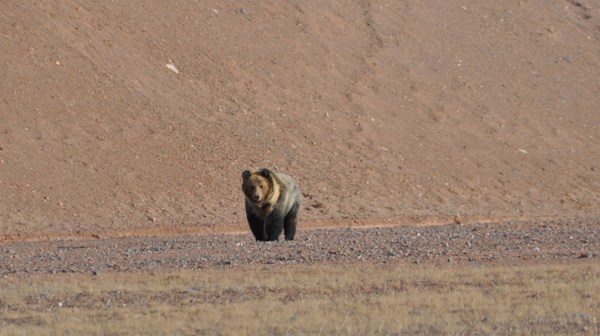 With trembling hands we tore into Hamish's bike trailer to retrieve the bike pump attachment required to recharge our air horns.
Tibetan blue bears, a subspecies of brown bear, are spectacular. With a luxurious blue-grey coat, big white collar, black legs and black teddy-bear ears, they can look almost like a cross between a grizzly and a panda. Seeing them up close (too close you might say), it surprised me that so few people know about them.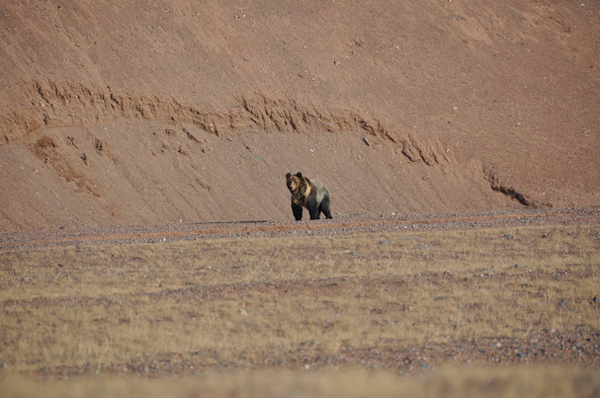 The reason why very few people know of or see this bear is because it lives in one of the world's most inhospitable places. It is mid-autumn and the temperature is -22 Fahrenheit, and that's not considering the ferocious wind scouring the almost vegetation-free plain around us. The altitude hasn't dropped below 16,400 feet (5000m) for over a week of travel and progress is only possible when we're not sheltering from storms that carry a biting mix of snow and sand.
It is a place captivating in its hostility. A land where giant sand dunes rest against towering glaciated peaks. A land of impassable mud in summer and punishing cold in winter. Of wild animals living on the roof of the world.
We are on the northern margin of the Tibetan Plateau where the provinces of Qinghai and Xinjiang join the Tibetan Autonomous Region (TAR); a place too inhospitable for even the hardy Tibetan nomads to use. This is not the Tibet of documentaries. It is a landscape very few people know about, hidden in the centre of a continent.
The northern part of the Tibetan Plateau is home to three giant nature preserves. The Qiangtang in the TAR, Aerjinshan in Xingjiang, and Kekexili in Qinghai. Other than the Greenland icesheet, this cluster of parks forms the biggest contiguous terrestrial protected area on the planet.  A roadless wilderness bigger than Montana. Heavy travel restrictions, impassable mountain ranges, altitude, and ferocious conditions have made it one of the least visited places on the planet.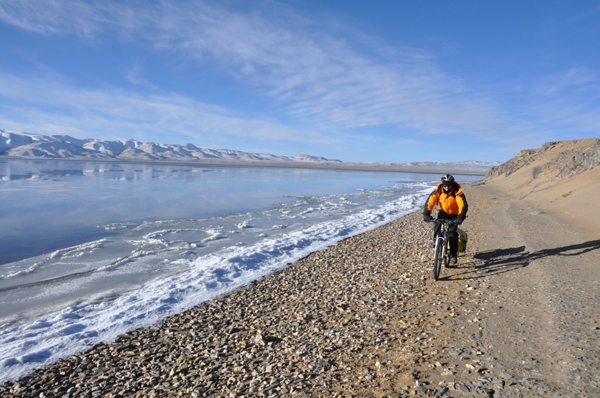 Despite, or perhaps because of, the extreme climate, wildlife is abundant here. The natural and political fortification of this part of the Tibetan Plateau have made it a sanctuary for a number of formally widespread animals such as the Tibetan antelope or chiru (Pantholops hodgsoni), wild yaks (Bos grunniens), and of course, bears.
My friend Hamish Reid and I had come to see this remote wilderness and its denizens first hand. Our plan was to cross Aerjinshan and Kekexili on mountain bikes. In doing so, we would join a very small handful of adventures (including names like Conrad Anker) to cross this region under their own steam.
For three weeks our only company would be aggressive bears, inquisitive wolves, defensive yaks, and some of the most testing conditions on our planet. In coming blogs I'll share some of our experiences and encounters of life on the northern plateau.
This expedition was sponsored by the outdoor gear company Sea to Summit.