If a community protects a portion of its fishing grounds, will it actually benefit them?
Or will the young fish produced in protected areas just move hundreds of miles away and benefit communities that played no role in protecting the resource?
These questions were the focus of researchers working in Manus, Papua New Guinea who investigated whether community protection efforts for the squaretail coral grouper (Plectropomus areolatus) actually benefited the community by providing more fish.
Their results, published today in the journal Current Biology, clearly show that local management of this species provides local benefits.
"For years, we've been preaching that community-based conservation is a key component to protecting reef fisheries," says Rick Hamilton, senior scientist for the Conservancy's Melanesia program and one of the coauthors of the paper. "The idea has been that if we protect some areas, large female fishes will be left undisturbed. They would then produce millions of larvae that spill over into nearby areas open to fishing. But until now that assumption has largely been faith based."
In Manus, as in many parts of the world, people essentially own the coral reefs near their village. They decide when, where and who can fish in these areas. Some of these areas have no formal designation, but fishers know these customary boundaries. Local communities can thus enact and enforce management and protection efforts.
One of the most important fishes for commercial and subsistence harvest for Manus communities is the squaretail coral grouper. It is also highly susceptible to overfishing. This is in part due to the fact that they form spawning aggregations, where huge numbers of fish congregate in one spot to spawn at predictable times. This makes it easy to overharvest the reproductive population. At night, the aggregating coral grouper sleep in shallow water, making them easy targets for spear fishers.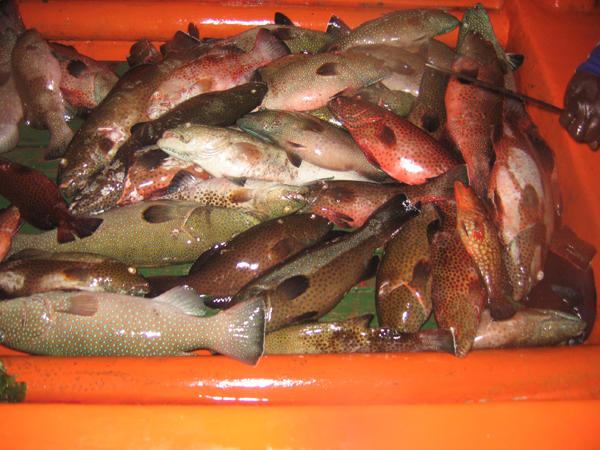 Since the squaretail coral grouper is a key part of the local culture and an important, vulnerable commercial species, it was the ideal fish to study.
The sites where coral groupers gather to spawn are what Hamilton calls "no brainers" for conservation. "It's like protecting a beach used by sea turtles for nesting," he says. "It just makes so much sense."
However, marine fish produce tiny larvae that spend weeks to months in the open ocean. If they don't return to areas near the reef where they spawned, protecting the spawning area would not benefit the local community.
Fortunately, that's not the case. Researchers used genetic parentage analysis to determine that over half of the coral grouper larvae produced from a protected spawning aggregation settled on reefs less than 14 kilometers from the place they were born. Furthermore, many larvae settled just a few kilometers from their parents and ended up on reefs owned by the same community that protected the aggregation, providing direct fisheries benefits.
Hamilton says that by working together, communities can design networks of small, marine protected areas that protect key habitat for species like the coral grouper while also sustaining their fish harvest.
Local fishers in Manus embraced both the research and results. "The really cool thing is that we could not have completed the study without the support and buy-in of the local communities," says Hamilton.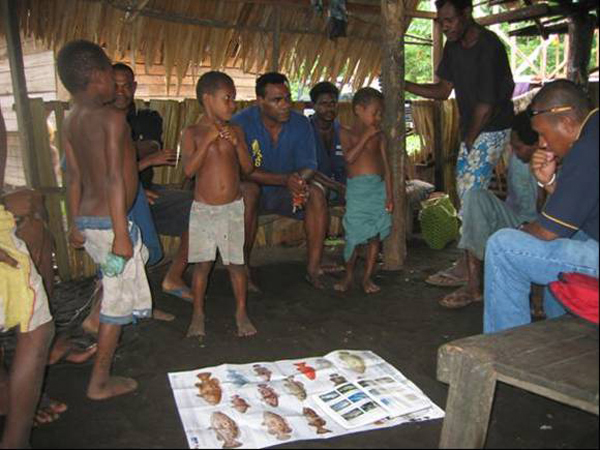 Literally hundreds of fishers assisted in various ways, including capturing adult and juvenile fish. "Their local knowledge ensured we caught fish," says Hamilton. "Without local knowledge, we would have never known about the spawning aggregations. Those aggregations are like pinpoints in the ocean, and if you're there too early or too late, you won't find any fish."
Hamilton and other researchers are now beginning to look at other important fish species, demonstrating that small protected areas benefit not only fish, but livelihoods and communities.
"Before we commenced this research, local communities were telling us that after protecting their spawning aggregations, they were seeing a lot more juvenile coral groupers on all of their inshore reefs," says Hamilton. "When I first heard this, it almost sounded too positive. But it turns out the data back up what we were hearing. Small, local marine protected areas do work, for fish and for people."