What effects will land use changes have on a stream and its wildlife? How do conservation managers know what will happen in a stream when a restoration project takes place? Will it really lower water temperatures? Will fish thrive?
Surely conservationists can't see into the future? 
Actually, stream managers now use sophisticated computer modeling to predict the outcomes of their activities. These models allow them to see how planting native shrubs, for instance, will alter stream flows and water temperatures.
In 2010, The Nature Conservancy was contacted by Maria Loinaz, a PhD candidate  at the Technical University of Denmark and the University of Idaho.  She was interested in developing a hydrologic model of the Silver Creek watershed using software called MIKE SHE/Ecolab.
This software is changing the way stream managers engage in restoration. It incorporates data on both groundwater and surface water, including stream flow, precipitation, vegetation and soils to accurately predict the effects of a new activity on a stream.
Maria proposed using the MIKE SHE program to model the groundwater and surface water systems and use the EcoLab program to build a water temperature model. Together these would allow her to model what happens to stream temperatures when riparian buffers were planted or stream flows increased.  Maria also wanted to incorporate fish data to see whether she could model where, based on the hydrology and temperature, fish would thrive in the system.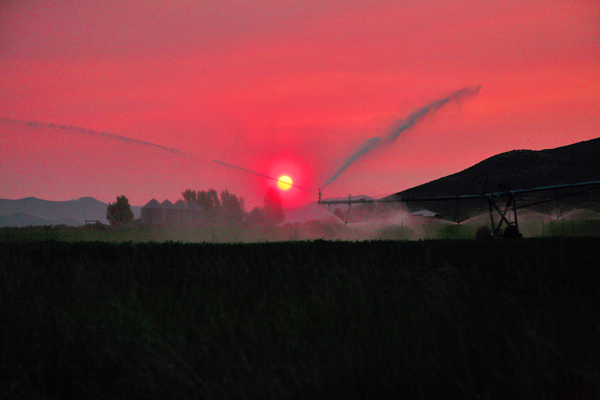 Silver Creek, in central Idaho, is home to some of the most productive trout habitat in the western United States.  The Nature Conservancy has owned a preserve here since 1976, and it draws global visitors who are drawn here for fishing, birding and other outdoor recreation.
Anglers and scientists alike were concerned that the ecosystem was experiencing deteriorating habitat conditions, which poses a threat to the sustainability of fish and other species dependent on this system (Loinaz 2012).
Silver Creek is a spring creek; all its water comes from springs that are fed by the underlying aquifer system. As such, the creek is particularly vulnerable to changes in the landscape and to the water management in the valley. The human-caused impact on the landscape and water resources is evident in the changing river morphology, riparian vegetation, and decreasing water table elevation (Loinaz 2012, Bartolino 2009).
These factors contribute to the interrelated effects of lower stream flow, higher water temperatures, and increased sediment accumulation, which have potentially large impacts on the aquatic ecology.
The clear connection between water management in the valley and stream conditions has forced the Conservancy to recognize the need to evaluate those activities contributing to stream degradation (Loinaz 2012).  We really needed some help talking a watershed-scale look at Silver Creek in order to prioritize our work.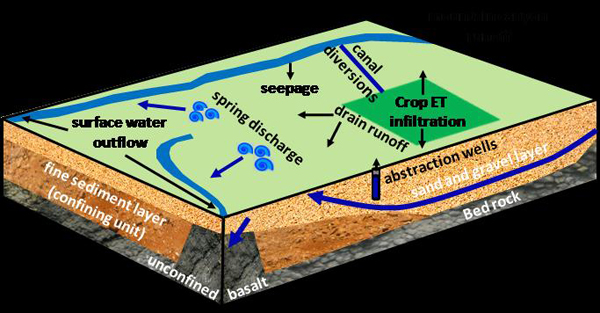 The process for developing the model started with a robust data collection exercise and data search.  Maria collected original flow and groundwater data and searched the valley for existing data on water deliveries, climate, water temperature, habitat, and land use.  She also incorporated data from older models and reports.  With all of this information she was able to build a water budget and the hydrological model.
Once the hydrological part of the model was complete she developed a tool to model water temperature in Silver Creek and its tributaries and incorporated fish data.   Then the fun began.  With the baseline model complete, a number of management scenarios were evaluated to measure the impact of changes in the watershed.
Land use changes were modeled (e.g. changing agriculture from tillage to grazing), water use scenarios (e.g. water conservation on agricultural lands), restoration scenarios (e.g., enhancing stream bank vegetation or restoring more natural stream cross sections), and fish distribution based on different temperature scenarios.
In a nutshell the model shows that lower water use means higher groundwater levels, cooler water (within a range) coincides with more abundant trout populations, and restoration (when done correctly and on a large enough scale) really does keep water cold and abundant in Silver Creek.