By Matt Miller, senior science writer
Once they were the river's top predator: a fish that could reach ten feet or more, with thick armored plates as scales and imposing jagged teeth.
You would see their long, tooth snouts poking out from the river's surface, gulping air—their adaptation for thriving in warm, deoxygenated water.
Alligator gar.
They thrived in a large swath of mid-western and southern waters, but by the early 1900s, they were already starting to disappear, a trend that continues to this day.
They were declared extinct in Illinois in 1994. But a new restoration and research effort aims to bring back these incredible fish, and help conservationists at other rivers and waters better protect them.
When fisheries biologists Rod Hilsabeck and Trent Thomas of the Illinois Department of Natural Resources decided to return the alligator gar to their state, they knew they needed a perfect location. The Nature Conservancy's Spunky Bottoms Preserve fit everything they sought.
Formerly farmland, Spunky Bottoms is now 2000 acres of restored wetlands and uplands. It consisted of perfect gar habitat: backwaters and sluggish pools with lots of vegetation. It also was not connected to the adjacent Illinois River, making it easier for researchers to capture and study the fish.
Research is a key component to the reintroduction. Nathan Grider, a master's student in biology at the University of Illinois-Springfield, is working with Dr. Michael Lemke and partners to study two key aspects of gar restoration.
They are studying how fast gar will grow when restocked into an area. They are also analyzing their diet, and in particular, if the gar will eat (and control) the non-native carp that swim Spunky Bottoms and so many other waters.
This information will help inform gar reintroduction and protection efforts throughout their range.
Gar Wars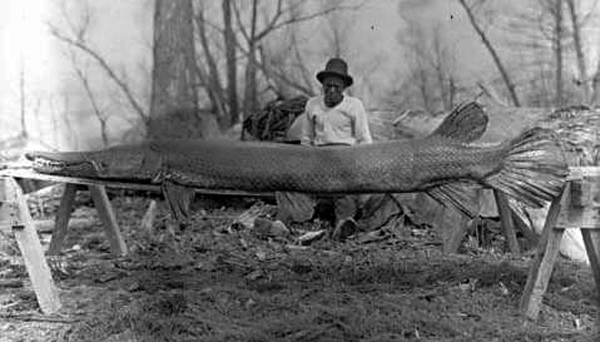 For much of the last century, gar were not protected; they were persecuted. People called them "river pirates." It was not intended as a compliment.
They accused gar of eating game fish. They accused them of eating humans. (Jeremy Wade, host of the often-sensational River Monsters, could find no evidence this has ever happened).
Facts aside, even fisheries managers in the early part of the 20th century wanted to eliminate alligator gar. They encouraged people to net them, shoot them, dynamite them. Gar died by the thousands.
This relentless persecution, coupled with dams and the loss of backwater habitats, led to a decline and loss of alligator gar across their range. Slow to mature and slow to reproduce, alligator gar cannot sustain heavy mortality; they're now considered at risk of extinction.
Today, conservationists, anglers and naturalists have found a new and growing appreciation for the fish: a gar renaissance, if you will.
"The attitude towards gar is changing," says researcher Nathan Grider. "People recognize that the fish are important to the river as a top predator. When even popular game fish like largemouth bass and crappies become too abundant, they get stunted. Predation from gar can keep that from happening. Their presence makes the fishery, and the river, healthier."
Grider notes that the fossil record for alligator gar in North America goes back more than 3.5 million years, and other gar species swam the waters more than 135 million years ago.
"They literally swam with the dinosaurs," he says. "They are an ancient lineage that has changed little evolutionarily."
This new gar appreciation is perhaps best typified by the wonderfully exuberant book by Mark Spitzer, Season of the Gar, a celebration of "the coolest fish that lives."
"More than any other fish, gar are prepared to fight on, adapt away, and crawl from the muck again," Spitzer writes.
But they may need some human assistance. Research like that conducted at Spunky Bottoms will play an important role.
The Gar Returns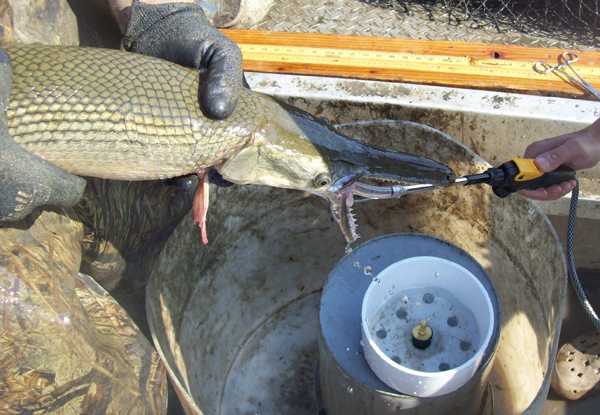 Spunky Bottoms was stocked with 22-inch-long alligator gar from hatcheries two years ago. Last year, Nathan Grider and his team began capturing them (primarily by netting), measuring them and recording their diets.
Could restocked gar thrive in a restored wetland? Oh yeah. In fact, fish gained as much as 14 pounds in just 17 months.
"It was impressive growth," says Grider. "We knew the exact age of individual fish, because they came from hatcheries. The fish at Spunky Bottoms grew faster than gar in any reintroduced population."
That was in large part due to an abundant food supply. The gar ate almost entirely gizzard shad, a small forage fish. As the gar grow, researchers hope they also begin chomping down carp.
"They can certainly get big enough to eat carp," says Grider. "Further research will help determine if there is a possibility to manage invasive species by reintroducing a top predator into the habitat."
And what about the alligator gar's fearsome reputation? Grider and fellow researchers handled a lot of the toothy fish. They also used a technique called lavage, in which the gar's stomach is pumped with water to flush out its food (the gar is not harmed).
"Lavage is certainly not a pleasant technique, so you might expect the gar would react violently," says Grider. "That wasn't the case. You have to respect them. They have the equipment to inflict damage. But none of us were bitten or hurt during our research efforts. Despite the myths and legends, alligator gar are actually pretty docile creatures."
This is part of an ongoing series on Conservancy fisheries research and how that work intersects with some of the biggest, wildest fish in freshwater.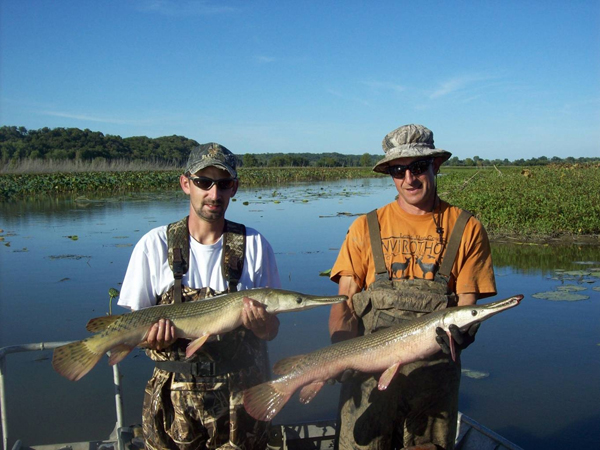 Opinions expressed on Cool Green Science and in any corresponding comments are the personal opinions of the original authors and do not necessarily reflect the views of The Nature Conservancy.