Do-It-Yourself Gift Ideas
Calling all crafters, bakers and DIY-ers! Check out our do-it-yourself gift ideas and make something special for everyone on your holiday list.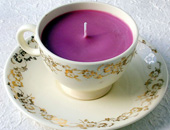 This craft project brings new life to half-burned candles cluttering the house.
Find out how used books can make a gorgeous holiday wreath.
What do you do with stacks of beautiful Christmas cards when you live in a small, mantle-less apartment in New York? Get creative!
Turn an invitation into a work of art with this sentimental, handmade holiday gift idea.
As the holiday season approaches, so does the beginning of cooking and baking season. Here are five fun holiday recipes that are fun to assemble with your kiddos.
Finally, a use for all those old, tacky holiday ties! Follow our easy steps to make this "up-cycled" holiday wreath.
Need some crafting inspiration? We rounded up our favorite holiday DIY projects from Pinterest, a community that allows you to create virtual pin boards.