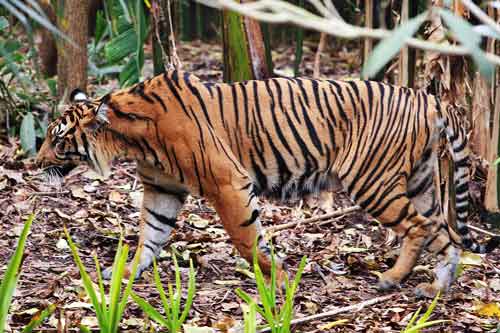 You can now volunteer to monitor the effects of climate change on plants in your backyard.
Or you can also cut down forests illegally in Sumatra and get eaten by a tiger. Your call.
Find out more about your choices for today — and other weird and interesting green news in (as always) Cool Green Morning:
Deforestation Blowback? Tigers have gone on a rampage in the last two months on the Indonesian island of Sumatra, killing nine people (most of whom have been illegal loggers).
An Undigestable Truth? An acre of corn grown from ethanol would take 48 years to have the same net greenhouse gas benefits as leaving that land as grasslands, says a new study in the journal Ecological Applications. (Hat tip: Journal Watch Online.)
(Image: Sumatran tiger in Melbourne Zoo, Australia. Credit: Fir0002/Flagstaffotos via a Gnu Free Documentation License, Version 1.2.)
Donate to The Nature Conservancy and give back to nature.
Tags: California, carbon emissions, Climate Change, Climate Feedback, corn, Ecological Applications, endangered species, Environmental Capital, ethanol, George Bush, geothermal, Grasslands, green tech, greenhouse gas, Indonesia, Journal Watch Online, Obama, Sumatran tiger, tiger, Wired Science