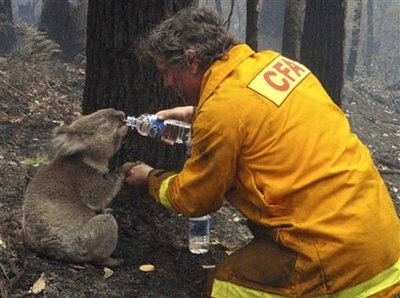 What an amazing photo of an Australian firefighter offering an injured koala bear a drink on Monday after fighting wildfires in Australia. But are those fires being made worse by climate change? Read all the latest in online green below:
(Image: Australian firefighter and koala bear, Feb. 9, 2009. Credit: Ted Van Pelt under a Creative Commons license.)
Donate to The Nature Conservancy and give back to nature.
Tags: Audubon, Australia, bird habitat, Birds, Canada, carbon emissions, Climate Change, furniture polish, Lighter Footstep, Obama, renewable energy, solar, vegetarianism, wildfires, wind energy, wind power