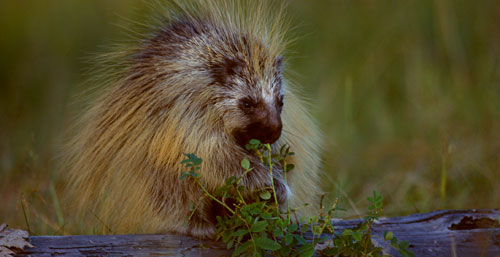 Morning y'all. Read on for interesting tidbits from blogs we like:
A Bird in the Cup: Bird lovers and coffee addicts unite! If you drink coffee that's certified bird-friendly (and why not?) and have wondered how the birds benefit, Coffee and Conservation has the answer.
Shrinking Species: Richard Black at the BBC comments on a new study showing that species are getting smaller and smaller. The reason? Researchers speculate that modern-day hunting and fishing practices have taken out the biggest fish in the pond, leaving the smallest ones to reproduce and evolove into… well, smaller species.
$$ Not to Drive: To reduce traffic from heavily-polluting cars in Beijing, China will pay people not to drive and will fine those who continue driving cars that don't meet emissions standards.
(Image:  A porcupine feasting on wild rosebush in Montana. Image source: Janet Haas.)
Donate to The Nature Conservancy and give back to nature.
Tags: Birds, China, Energy, Glaciers, Green Contest, Green Living, Porcupines, species discovery, The Green Buzz