EDITOR'S NOTE: The first ever SXSW Eco is taking place October 4-6 in Austin, TX. Our Nicole Levins is on the scene and she'll send live updates on Twitter @nature_org and will update this blog throughout the week.
---
Day 3:  October 6, 6:30 pm CT
We probably all agree it's wrong to wreck the world, correct?  But does that mean we have a moral obligation to protect it?  Philosophers and editors of Moral Ground: Ethical Action for a Planet in Peril Kathleen Dean Moore and Michael Nelson have uncovered 14 reasons why we do, and at their presentation* this afternoon, the duo elaborated on a few of them.
To me, the most compelling reason for protecting the planet is that nature has this intrinsic value.  Moore put it this way: If you were the last person on Earth, about to board a spaceship to another planet and never to return, would it be wrong to set the land on fire?  To destroy it completely?  If you say yes, then you believe that nature has value on its own, not just for humans.
I'm not a philosopher, but it makes sense to me.
*Moore and Nelson also delivered my favorite soundbite of the entire conference.
---
Day 3:  October 6, 5:30 pm CT
Panel:  "The Gulf Coast:  Aftermath of an Unnatural Disaster"
Laura Huffman, LaTosha Brown, Jackie Savitz and Loren Steffy.  Photo via @MeLlamoRooster.
"No one has an interest in not restoring the Gulf of Mexico." 
–Laura Huffman, Director of The Nature Conservancy of Texas
UPDATE (10/13):  Here are those long-ago promised videos.  Enjoy!
On the important role the Gulf of Mexico plays in all American lives:

On the ecological state of the Gulf a year and a half after the oil spill:

On the threats the Gulf faces– besides oil drilling:

---
Day 3:  October 6, 3:30 pm CT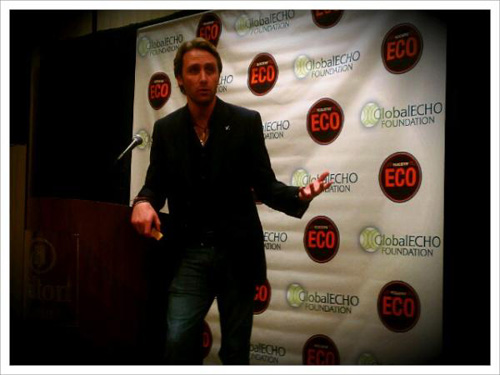 Philippe Cousteau, Jr.  Photo via @Mandysugrue.
CEO of EarthEcho International, TV host, environmental advocate and all-around cool guy Philippe Cousteau, Jr. delivered today's keynote address, "Innovating Conservation:  From Youth Environmental Education to Financial Markets."  Cousteau's a great storyteller, and if I paraphrase, I won't do him any justice.  I'll post video as soon as I can, but in the meantime, here are the top six takeaways from his speech…in tweets.  (Notice a theme here?)

UPDATE (10/13):  Now with (shaky, sorry) video!
On how conservation is just as much about protecting human life as it is about protecting the environment:

On the connection between environmental sustainability & social sustainability:

On how our need for energy is playing a role in the changing climate:

On addressing climate skeptics:

---
Day 3:  October 6, 12:00 pm CT
Is green dead?
That's kind of a weird question to ask at an event like SXSW Eco.  (I mean, if green is dead, why are we even here?)  But the speakers on this morning's "The Death of Green" panel had some pretty provocative things to say about the green movement—mainly, that it doesn't truly exist, because if it did, we would've made a lot more progress by now.
"We're not going to change the world with just facts; we've tried that, it doesn't work," explained Kelly Cox, co-founder of Iron Way Films.  Old-school one-size-fits-all environmental messaging just doesn't appeal to the masses.  The solution?  Think like a corporation, and tailor messages to your targeted "customer base."
"It's about human relevance…appealing to people where they are," said Cox.
Kelleigh Dulany, Comedy Central's vice president of corporate responsibility, agreed.  To reach the network's mostly male Millennial audience, she launched "Address the Mess," an initiative that promotes environmental messages in Comedy Central's programming, events and online channels.  But you won't see Daniel Tosh lobbying for climate legislation, and Trey Parker and Matt Stone probably aren't going to develop a very special "Cartman saves the rainforest" episode of South Park.  For Comedy Central's bro-esque audience, it's about appealing to "selfish self-interests," as panel host Ben Jervey of OnEarth described it—it's "don't be a d****e, be a good person," said Dulany.
What do you think?  How do you inspire others to take better care of the planet?  How can we inspire YOU to take better care of the planet?
---
Day 2:  October 5, 3:00 pm CT
Mark Tercek at SXSW Eco. Photo via @championAC.
Were you watching?  Our president and CEO, Mark Tercek, just delivered his keynote address, titled "Conservation in the 21st Century: Saving Nature to Save Ourselves."  Tercek discussed the value of nature, saving nature for nature's sake and the four key constituencies we have to reach in order to promote real environmental change.
If you missed it, here's a short summary… in tweets.
Protecting nature for nature's sake is fine, but that doesn't resonate with everyone.
We have to connect with mainstream audiences.
We have to partner with businesses.
We have to get governments on board.

We have to inspire the next generation.
Basically, the only way we're going to be successful is to bring new audiences into the fold.
He wrapped up with a few tough questions from the audience on the "Occupy Wall" Street movement (Tercek says "God bless 'em"), some of our work with the extractive industry in developing countries and some challenges to the Conservancy's role and relevance in the current environmental movement.
Stay tuned for video!
---
Day 2: October 5, 12:30 pm CT
Erik Assadourian, Worldwatch Institute. Photo via @coreyleamon.
In a session titled "Growing an Eco-Culture to Replace Our Consumer Society," Erik Assadourian of Worldwatch Institute's Transforming Cultures program presented a pretty compelling argument against the concept of a "green" consumer culture.
It's true that our love affair with new stuff has some pretty nasty side effects for the environment, like deforestation, air pollution and climate-changing carbon emissions. We're also maxing out our natural resources—Assadourian claimed that we're using the equivalent of one-and-a-half Earths every year, and the planet can only really sustain five billion people. (We're about to hit seven billion any day, so that's concerning, to say the least.)
In a number of languages, the words for "consumer" are now synonymous with "person" or "citizen." We're basically defined by the fact that we often purchase things. Whether we like it or not, consumerism is a part of who we are.
So, how do we change that? Can we change that? Assadourian says we need buy-in from the six key industries that influence culture: government, business, education, media, social movements and traditions.
Where small steps have already been taken, we're seeing success. When the local Washington, DC government enacted a five-cent tax on shopping bags, consumption dropped from 22 million to three million bags in just a month. Just imagine how many of those 19 million bags would've ended up in local landfills or bodies of water!
Businesses that have modified their missions from maximizing profits to maximizing well-being are also making a big difference. Assadourian spoke at length about (don't laugh…okay, you can laugh) Cabbages & Condoms, a Thailand-based restaurant whose profits support health and family planning initiatives in rural areas. The initiative has been so successful, it's expanded to include an eco-resort as well.
It's also up to us regular folks to rethink some of our traditions.  Here's Assadourian's take on how we can shift Western funeral rituals to a more environmentally sound model.
All of this seems promising, but bigger steps and more widespread adoption are obviously needed to make a more significant impact. What do you think? Can we make a cultural shift away from consumerism as we know it? It kind of sounds like we have to.
---
Day 2: October 5, 1:45 pm CT
Mark Tercek will deliver his keynote address, 'Conservation in the 21st Century: Saving Nature to Save Ourselves,' at 2pm CT on Wednesday, October 5. You can watch it live here:
---
Day 1: October 4, 8:00 pm CT

Keynote speaker Alex Steffen. Photo via @ecoimagination.
If you were watching the livestream or following on Twitter (or, also, actually at the conference), then you already know today's agenda featured a clean energy conversation between Time's Bryan Walsh and former Colorado governor Bill Ritter, as well as a memorable keynote address from Alex Steffen. But those are just two of the highlights– there are so many sessions, you'd have to be able to be in five places at once to catch them all.
Thankfully, we've got Twitter to help fill in the blanks, and our friends at Treehugger had the brilliant idea of collecting and sharing their top tweets.
If you're less interested in the actual content at SXSW Eco, and more curious about the "vibe," then, well, here you go. (For the record, I think the crowd has been perfectly hip.)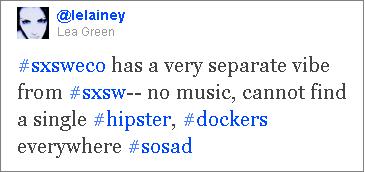 ---
Day 1: October 4, 1:30 pm CT
Greetings from Austin!
The first-ever SXSW Eco kicks off in just over two hours, and we at The Nature Conservancy are so excited to be a part of it. The conference will channel the creative energy of leading thinkers in the fields of conservation and sustainability—like our president and CEO, Mark Tercek, and our Texas state director, Laura Huffman—with the goal of shifting "the environmental conversation beyond rhetoric and towards solutions." Sounds pretty cool, right?
To keep up with the latest (and be among the first to know if the Foo Fighters make a surprise appearance, like they did at the last SXSW), check back for updates and follow @nature_org on Twitter.
Tags: Address the Mess, Austin, Ben Jervey, Comedy Central, conservation, consumerism, corporate partnerships, death of green, eco culture, environment, Erik Assadourian, foo fighters, green messaging, Iron Way Films, Kelleigh Dulany, Kelly Cox, Laura Huffman, Mark Tercek, OnEarth, sustainability, sxsw, sxsw eco, Texas, Worldwatch Institute